Bandana Fever Ash Stone Bandana All-Over Print Hoodie For Men and Women
Custom Ash Stone Bandana Graphic Hoodie
Shop Bandana Fever Ash Stone bandana print all-over hoodie sweatshirts online at BandanaFever.com and up your confidence with rich looks that impress. When you look good, you feel good. and our hoodies are rated best when it comes to making you look good. #bybandanafever #catchthatfever
Shop All Over Print Hoodies For Men & Women at Bandana Fever
Actual product design may slightly vary.
Made of Polyester and Spandex, soft and comfortable.

Dye-sublimation printing

No fading

Features drawstring hood, long sleeves, elastic sleeve cuff, and waistband.

Men/Women

Suitable for daily wearing, and perfect to pair with skinny jeans and boots.

Not sold in stores, or worn by everyday people.
Love art? Wear our hoodies. Want to impress people? Wear our hoodies. Want to look rich? Wear our hoodies. Need to boost your confidence? Wear our hoodies.
Match with Adidas Yeezy Boost 350 V2 Ash Stone
Please allow 6-8 days to receive a tracking number from Bandana Fever while your order is hand-crafted, packaged, and shipped from our facility in China. Estimated shipping time is 2-4 weeks.
Use the size chart below to find your size for all-over print men's and women's hoodies.
Men's sizes range from S to 4XL sizes.
Women's sizes range from XS to 4XL.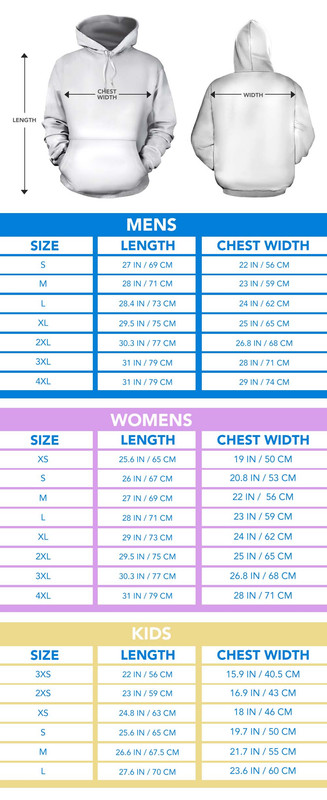 Catch that fever with our all-over print Zip Up Hoodies or Pullover Hoodies and look like you just jumped off the cover of a fashion magazine. Our hoodies look good on anyone and make anyone look good. We recommend you recommend our hoodies! #bandanafever

What Is A Hoodie?
A hooded sweatshirt is a sweatshirt with a hood. Specifically, it covers most of the head and neck and sometimes the face. Bandana Fever offers all over print hoodie jackets for men and women that serve practical purposes in addition to fashion and unique styling. For instance, our hoodie sweatshirts are suitable for protection against the environment, namely (Cold weather, Rain, etc.).
Is it spelled hoodie or hoody?
In reference to the article of clothing with a built in hood, it's spelled 'hoodie' or 'hoody', so both are acceptable, however the suffix 'ie' is most common.

All Over Print Hoodies #ByBandanaFever Global

Our fabulous custom graphic hoodies are sold and shipped worldwide.
Thank you for checking out our fabulous products. Your appreciation and satisfaction are everything to us.
Reviews:
5.0 out of 5 stars
Love it
True to size
Silky material
Received
so many compliments on this jacket when I was in the Blue Ridge mountains. The colors are as shown. Bright and colorful. Order a large and fits great with a sweatshirt.